NM-791, NM-792, NM-793
Regular price
$800.00
Sale price
$395.00
Unit price
per
Sale
Sold out
The Nakiyo Magnolia Damascus series is made just for us by Tojiro in Tsubame, Japan. Featuring the same traditional construction and Damascus steel blade as the Tojiro Shippu series, this line utilizes handles of Japanese magnolia wood and water buffalo horn with a D-shaped (shinogi) profile most comfortable for right-handed users. Our three-piece starter set covers your most essential needs in the kitchen.
For similar knives with alternative handle materials and shapes, check out the Nakiyo Teak Damascus and Tojiro Shippu series.
What you get
180 mm (7.1") Chef's Knife: Also known as a gyūtō (牛刀), meaning "beef knife," the chef's knife is your go-to tool for larger tasks. Originally designed for processing red meat, it can also be used to chop vegetables near the heel. This size strikes a balance between the agility of a smaller vegetable chopper and the power of a larger (210-270 mm) chef's knife.
130 mm (5.1") Petty Knife: This is the Japanese version of the European utility knife and is an excellent tool for any smaller tasks. It can be used for slicing and chopping meat, fish, and vegetables, as well as for carving poultry, paring fruits and vegetables, and cutting tough foods like cured meats.
90 mm (3.5") Paring Knife: The smallest knife typically found in the chef's arsenal, the paring knife is also the most agile. Perfect for paring fruits and vegetables, its narrow tip also makes it handy for garnish work and for fine tasks such as deveining shrimp. The Japanese paring knife is set apart from Western counterparts by the straight, angled blade, which also allows the knife to be used on a cutting board while maintaining clearance between the handle and cutting surface.
Magnetic Bamboo Knife Stand: This stand of our very own design, normally $39.90, is included with the set as our gift to you. It stands freely on your counter and securely holds up to five knives with blades of up to 9.5". We offer it in two shades—pick your favorite!
Materials & Design
Damascus steel was first developed in India over 2,000 years ago and quickly established a reputation not only for its beauty, but also as one of the greatest metallurgical innovations in history. Swords forged in Persia and sold in the Syrian city of Damascus inspired legends of their ability to slice through a gun barrel or part a hair falling across the blade. Although the ancient technique was lost to history around 1900, modern metallurgists have succeeded in reproducing the effect with state-of-the-art alloys to bring performance to the next level.
Nakiyo Damascus blades are forged from 63-layer (all larger knives) or 37-layer (paring, peeling, and petty knives) Damascus steel, which is made by repeatedly folding and forge welding two stainless steels with different carbon contents. The resulting material bears the elegant, wavelike pattern produced by its many fine layers—a testament to its strength, flexibility, and durability. This Damascus envelops a core of harder VG-10 cobalt alloy steel, a high-carbon stainless steel developed in Japan. Hardened to a Rockwell hardness of 62, it accommodates a long-lasting, razor-sharp edge.
The handle is crafted from lightweight Japanese magnolia (Magnolia liliiflora) wood, which provides a secure grip without upsetting the knife's balance. The light-colored wood is secured and accented by a ferrule (collar) of black water buffalo horn. Its D-shaped shinogi profile maximizes comfort and ease of control. 
Share
View full details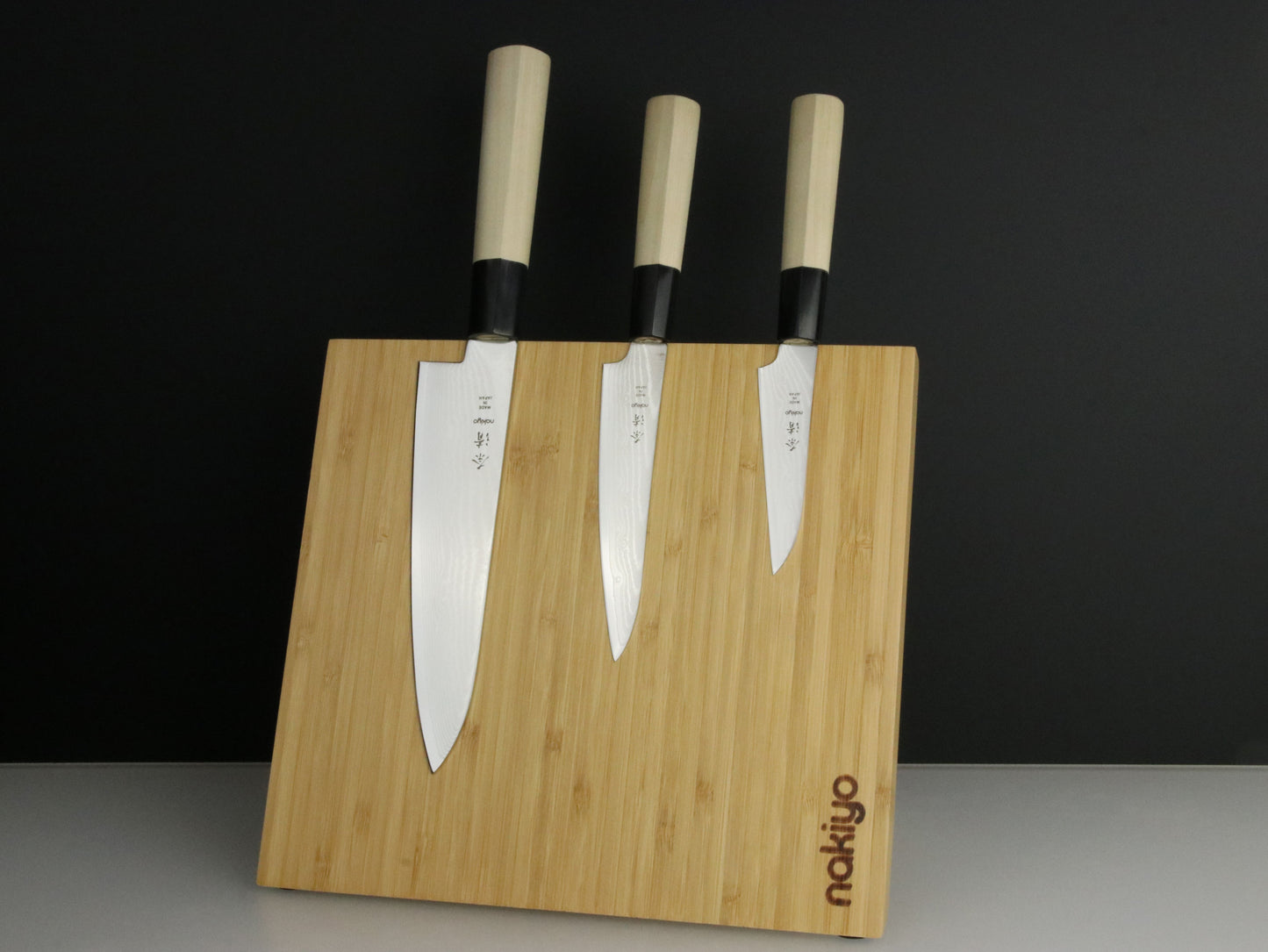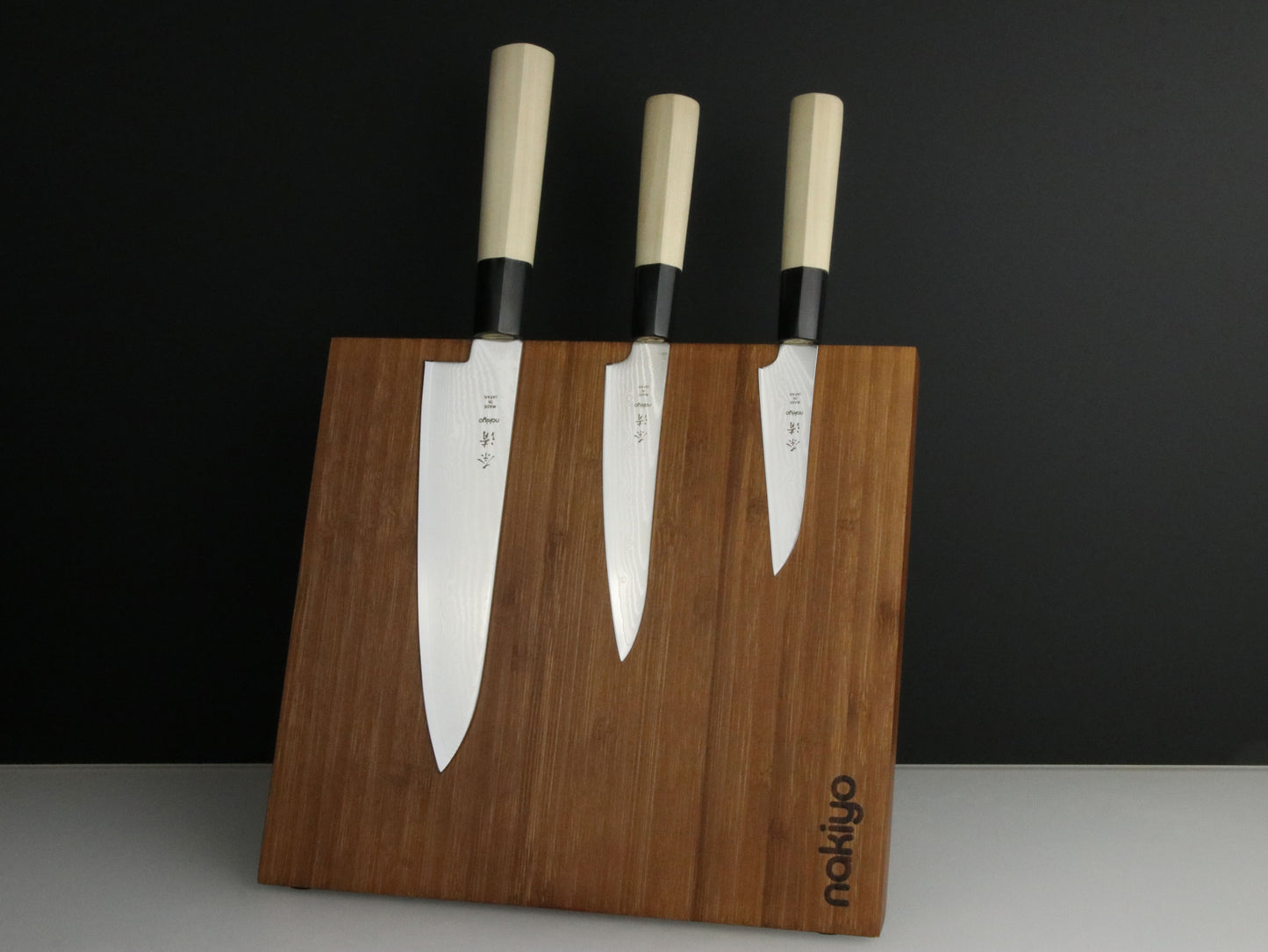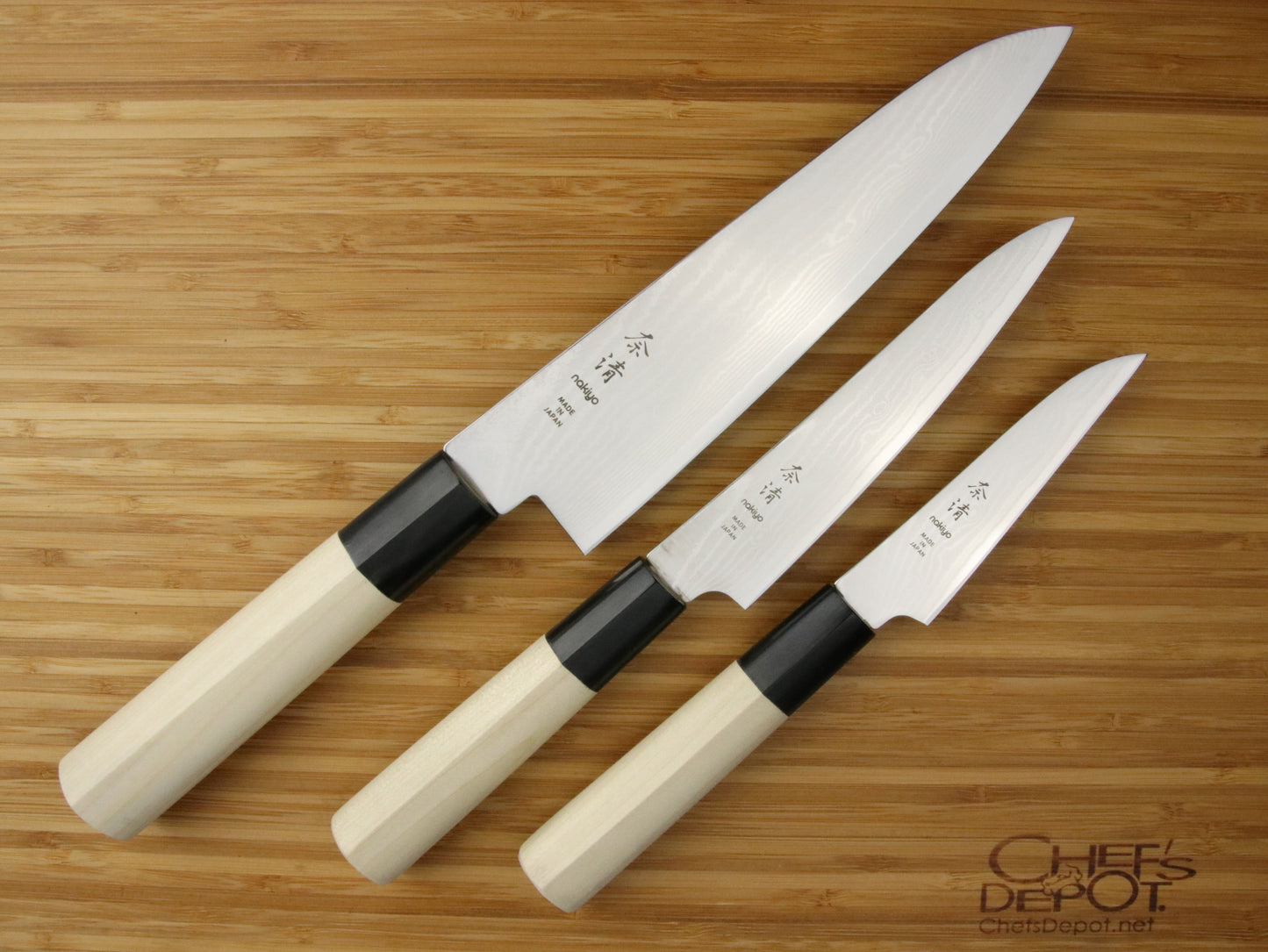 Wanted for years
I have been looking for a set of great knives for years. These are superbly crafted and the ergonomics are fantastic!
Specifications
Length: Gyuto: 180 mm (7.1") blade, 320 mm (12.6") overall
Petty: 130 mm (5.1") blade, 225 mm (8.9") overall
Paring: 90 mm (3.5") blade, 200 mm (7.9") overall
Weight: Gyuto: 120 g (4.2 oz)
Petty: 55 g (1.9 oz)
Paring: 45 g (1.6 oz)
Blade: 63-layer (gyuto) or 37-layer (petty, paring) Damascus with VG10 cobalt alloy core
Edge: Double bevel
Handle Material: Solid magnolia wood with buffalo horn ferrule
Handle Shape: D-shaped (shinogi)