FJ-01, FJ-02, FJ-07, FJ-09, FJ-15, FJ-21
Regular price
$1,120.00
Sale price
$695.00
Unit price
per
Sale
Sold out
Sha Ra Ku Mono is the second masterpiece by visionary designer Komin Yamada, the creator of Global knives. The one-piece construction, utilizing a deceptively light, hollow stainless handle, gives these knives a modern aesthetic with the exquisite balance of a traditional Japanese knife. Sha Ra Ku Mono is forged by Tojiro in Tsubame, Japan and imported exclusively by Seattle Cutlery. Our six-piece set covers meat, produce, bread, and everything in between.
What you get
210 mm (8.3") Carving Knife: A fine tip and a long, narrow blade, firm but ever so slightly flexible, allow the carving knife to glide through any cut of meat and maneuver around bones with ease. While ideal for carving and excellent for slicing, the curved blade and mildly offset handle also allow this knife to be used like a chef's knife for chopping.
160 mm (6.3") Nakiri: Meaning "knife for cutting greens," the nakiri bōchō (菜切り包丁) is a traditional Japanese vegetable knife. While the carving knife's narrow blade and fine tip are better for cutting meat, the nakiri excels at chopping and dicing vegetables thanks to its broad, rectangular blade, which provides even chopping power along the full length of the blade. The rounded tip facilitates rock chopping.
140 mm (5.5") Utility Knife: The utility knife is your go-to helper for most smaller tasks that require more finesse than a large knife can provide. It can be used for slicing and chopping meat, fish, and vegetables, as well as for carving poultry, paring fruits and vegetables, and cutting tough foods like cured meats.
110 mm (4.3") Petty Knife: Similar in form to the utility knife, the petty knife features a shorter, thinner blade that is best for paring and other fine work with fruits and vegetables. This is the smallest and most nimble blade in your collection.
150 mm (5.9") Cheese & Tomato Knife: The Sha Ra Ku Mono cheese knife's unique, eye-catching form isn't just for show—this is the perfect tool for brie and gouda alike. Ultrafine serrations (35 per inch) effortlessly saw through hard cheeses and tough rinds in addition to tomato skins, notoriously difficult to cut cleanly with a plain-edged knife. The thin blade chops like butter through softer cheeses while three elliptical cutouts provide easy release by breaking suction between the blade and cheese slice. A forked tip allows you to serve and snack while you cut.
230 mm (9.1") Bread Knife: Bread, as well as other soft foods with hard exteriors, is notoriously difficult to cut without crushing. The coarse serrations (4.25 per inch) of the Sha Ra Ku Mono bread knife allow it to saw through tough crust with minimal effort, guaranteeing clean, intact slices. 
Premium Magnetic Bamboo Knife Stand: This stand of our very own design, normally $79.90, is included with the set as our gift to you. The sturdy board is mounted on a padded steel base and uses powerful neodymium magnets to securely hold up to ten knives with blades of up to 9.5". We offer it in bamboo and walnut—pick your favorite!
Materials & Design
Sha Ra Ku Mono blades are forged from molybdenum-vanadium alloy stainless steel, which finely balances edge retention, toughness, and corrosion resistance. This material is slightly softer than the VG-10 steel used in other Tojiro knives and significantly harder than European knife steels.
The handle is made from hollow 18/8 stainless steel, crafted with the blade as a single piece. Much like a traditional wooden wa handle, its light weight keeps the knife's balance farther forward than on European knives. The ergonomic shape allows it to be gripped either by the handle or with a more versatile pinch grip.
Share
View full details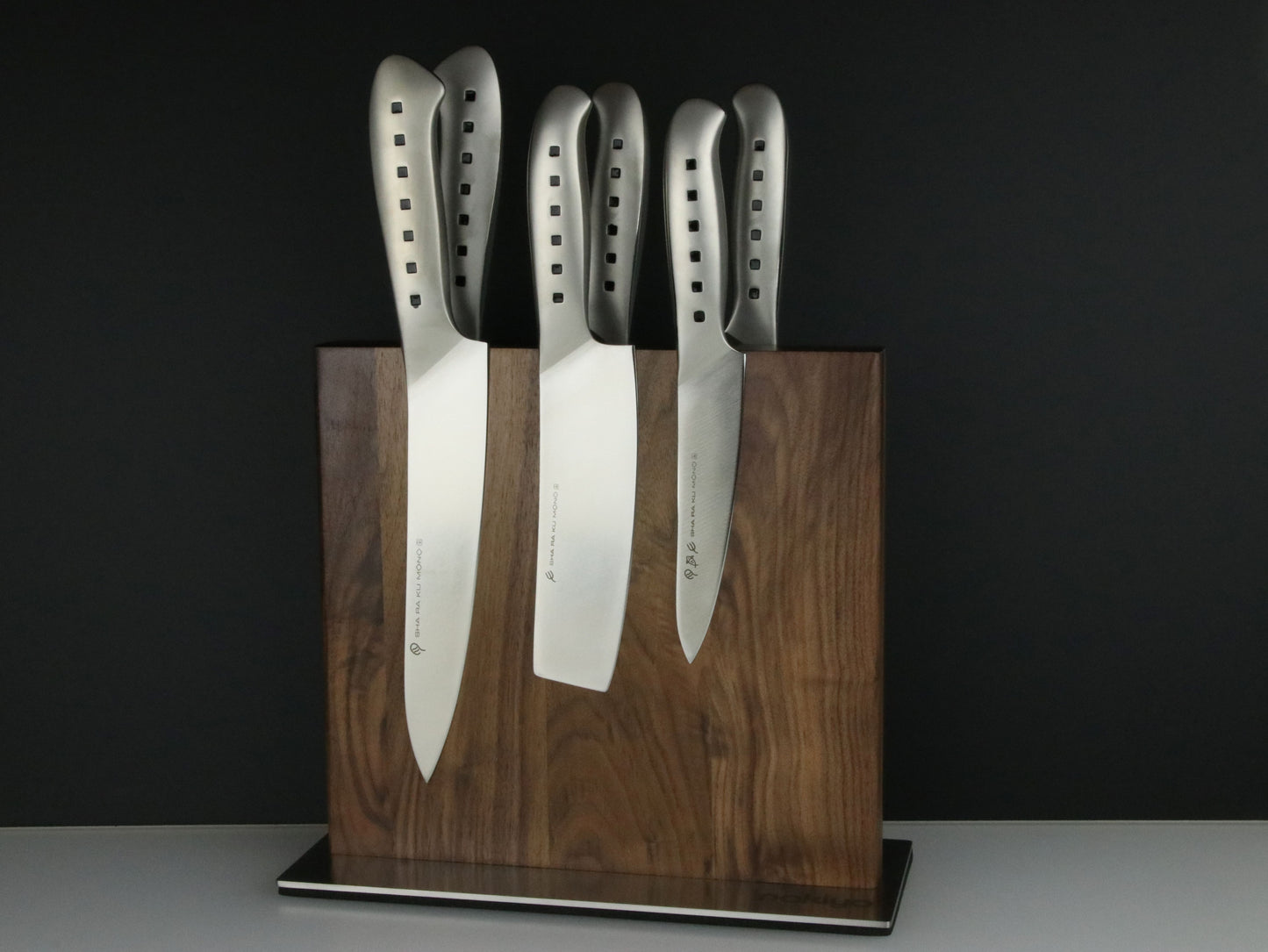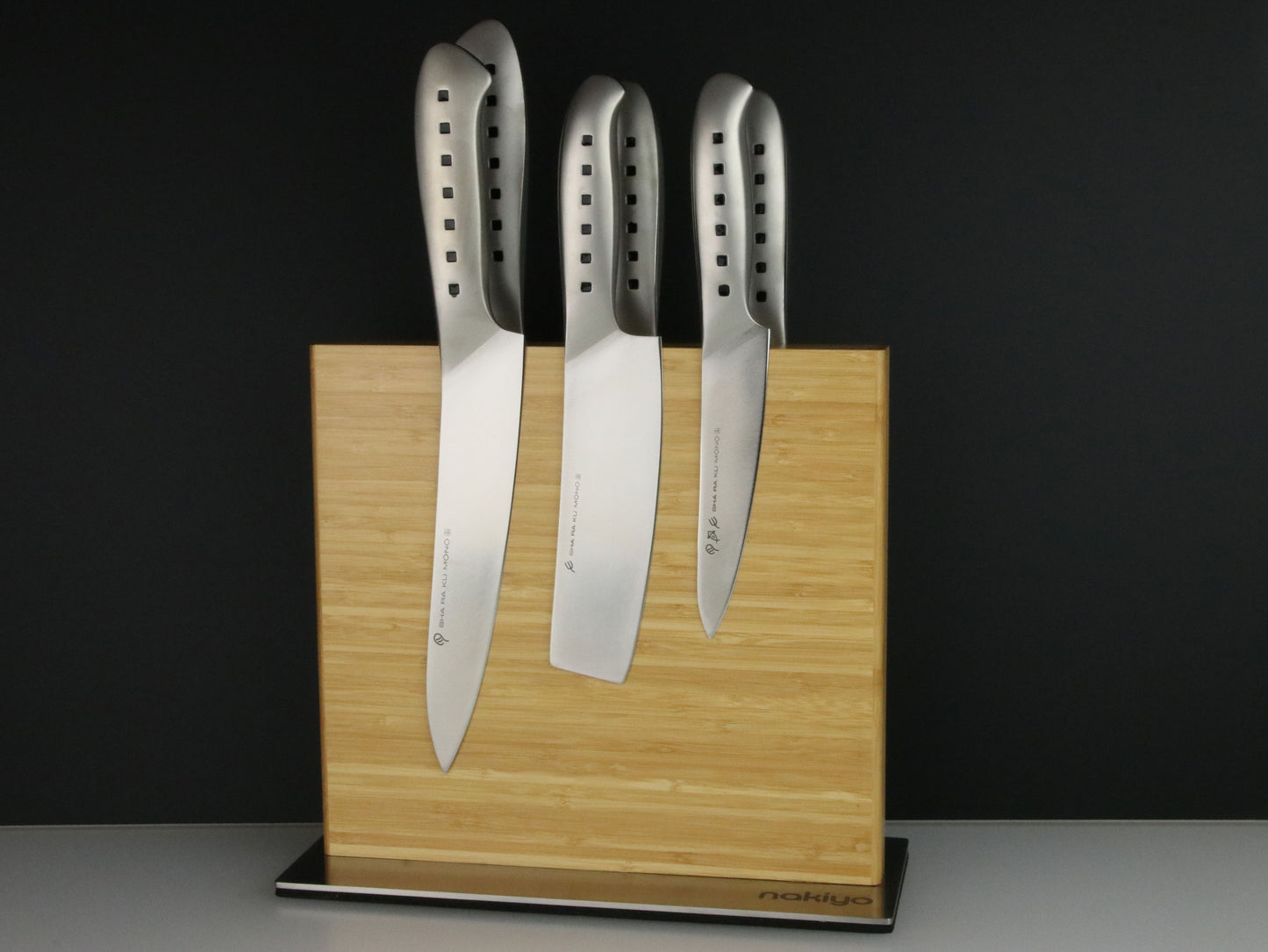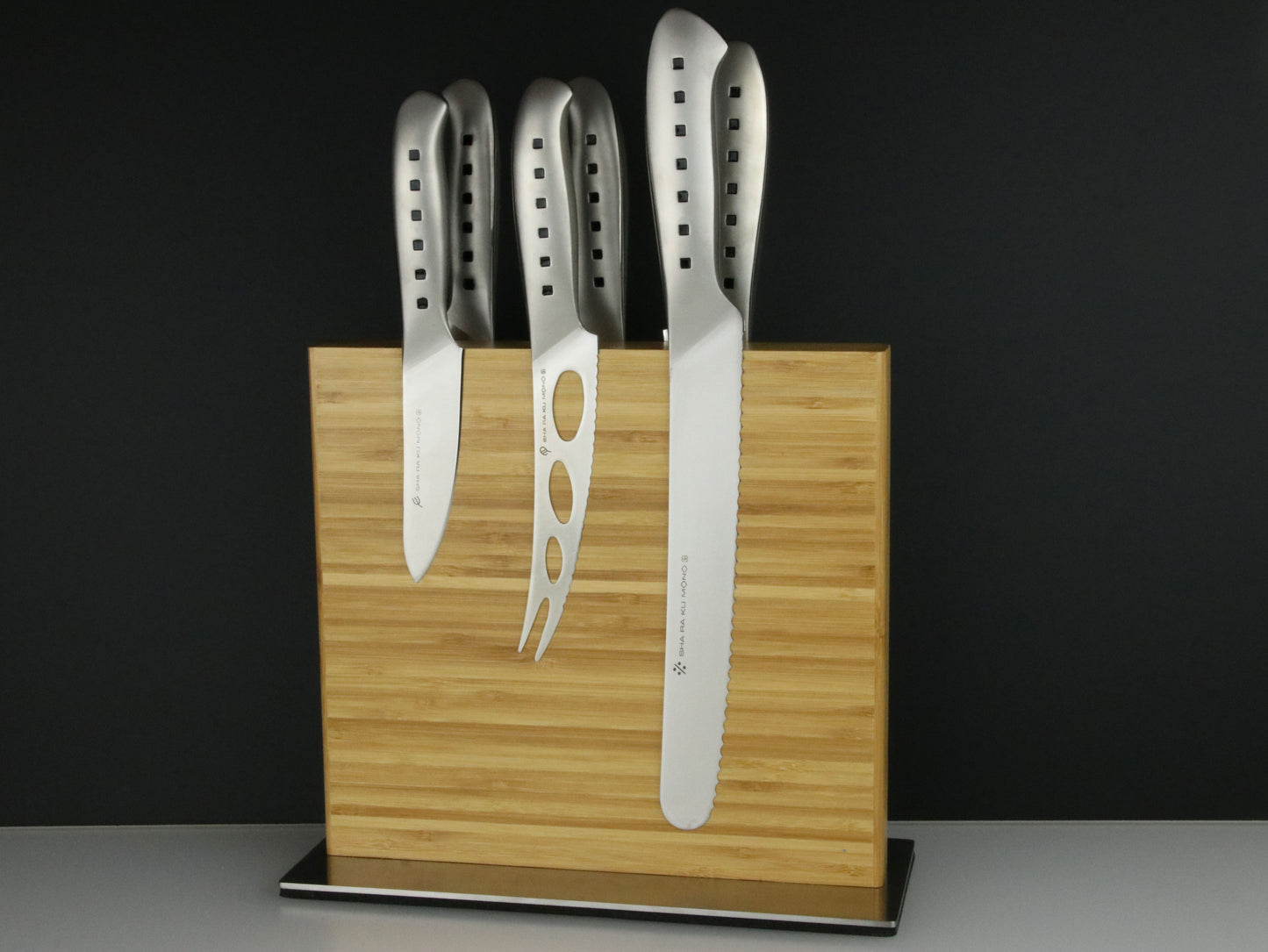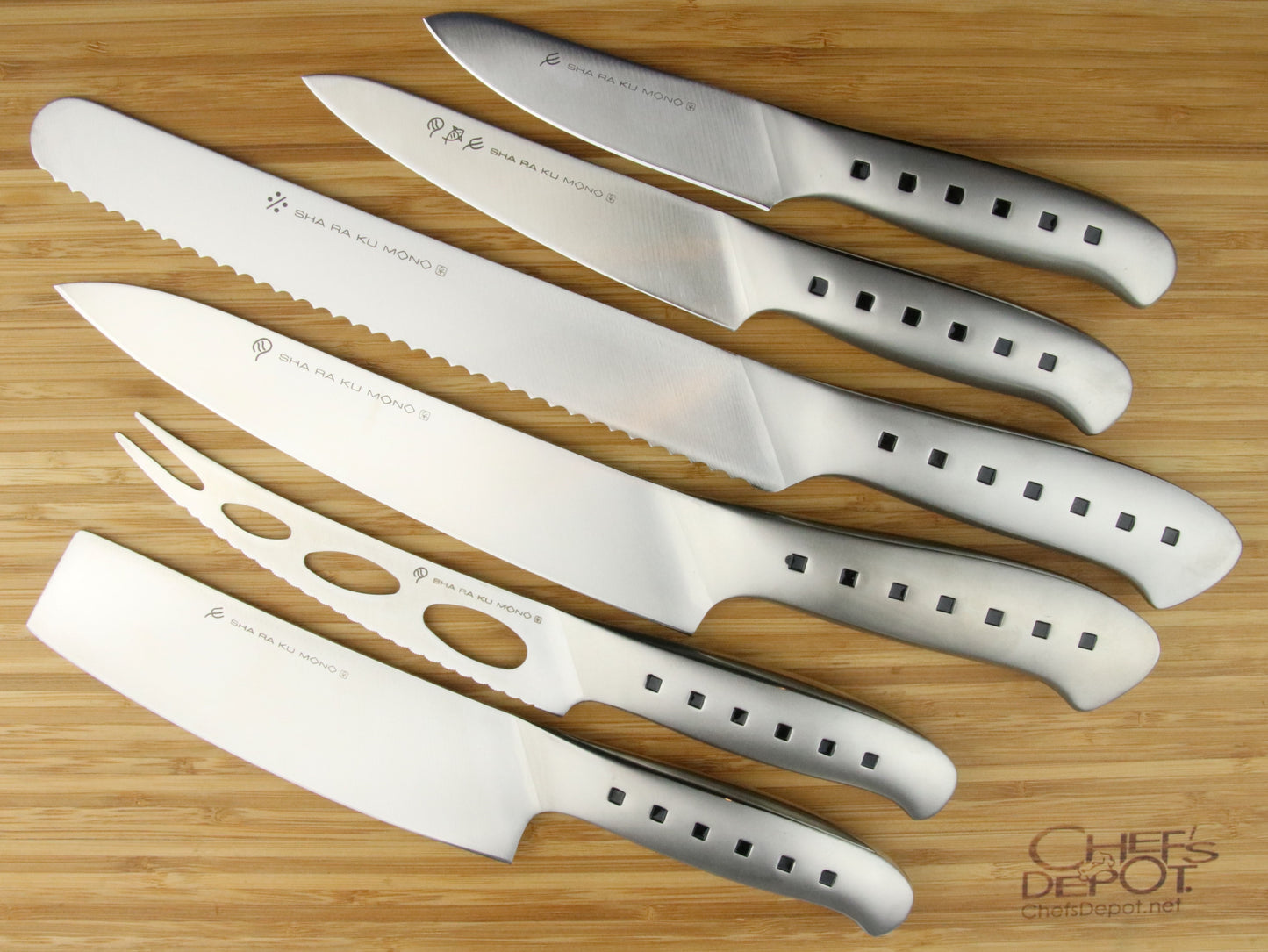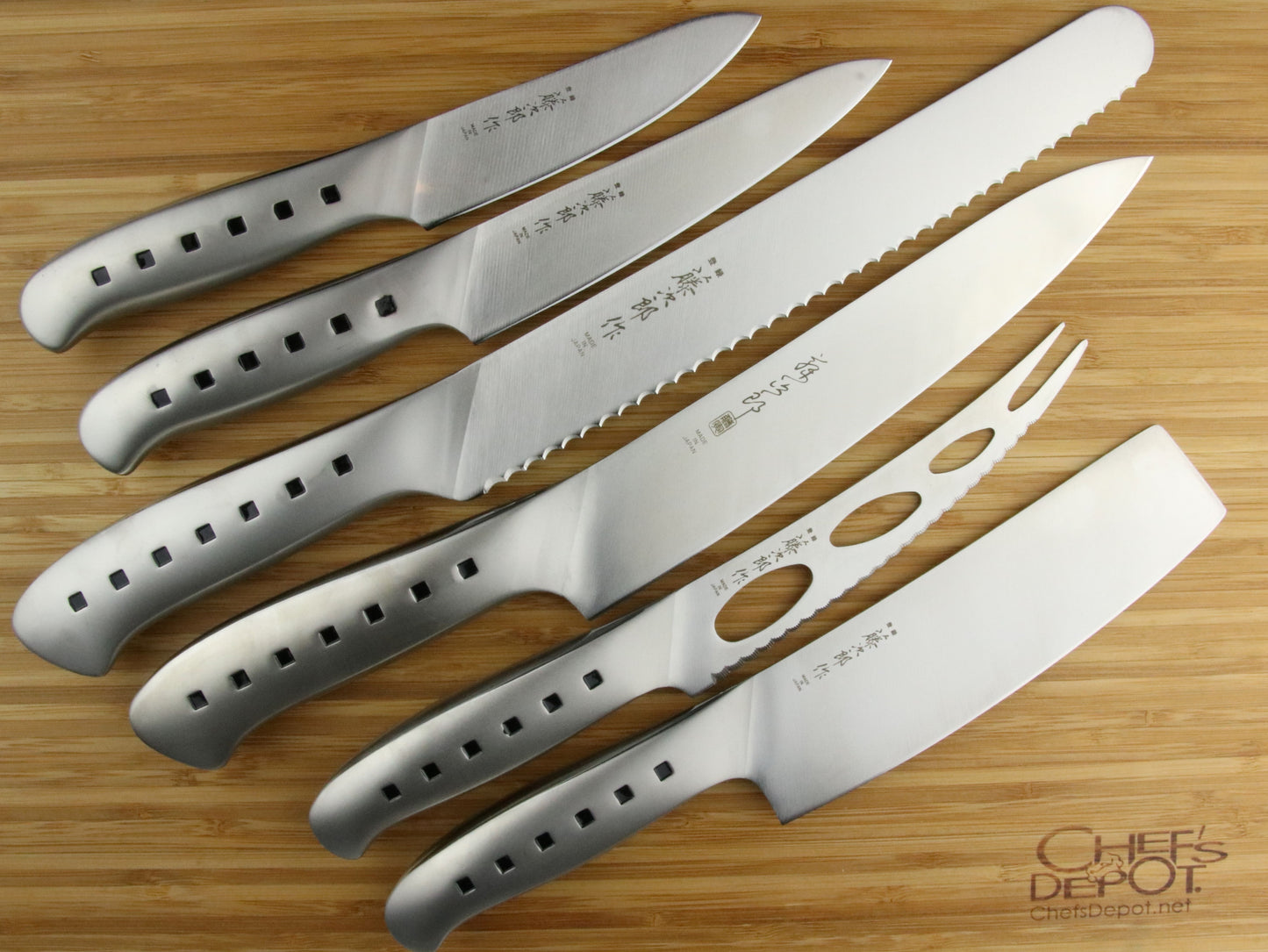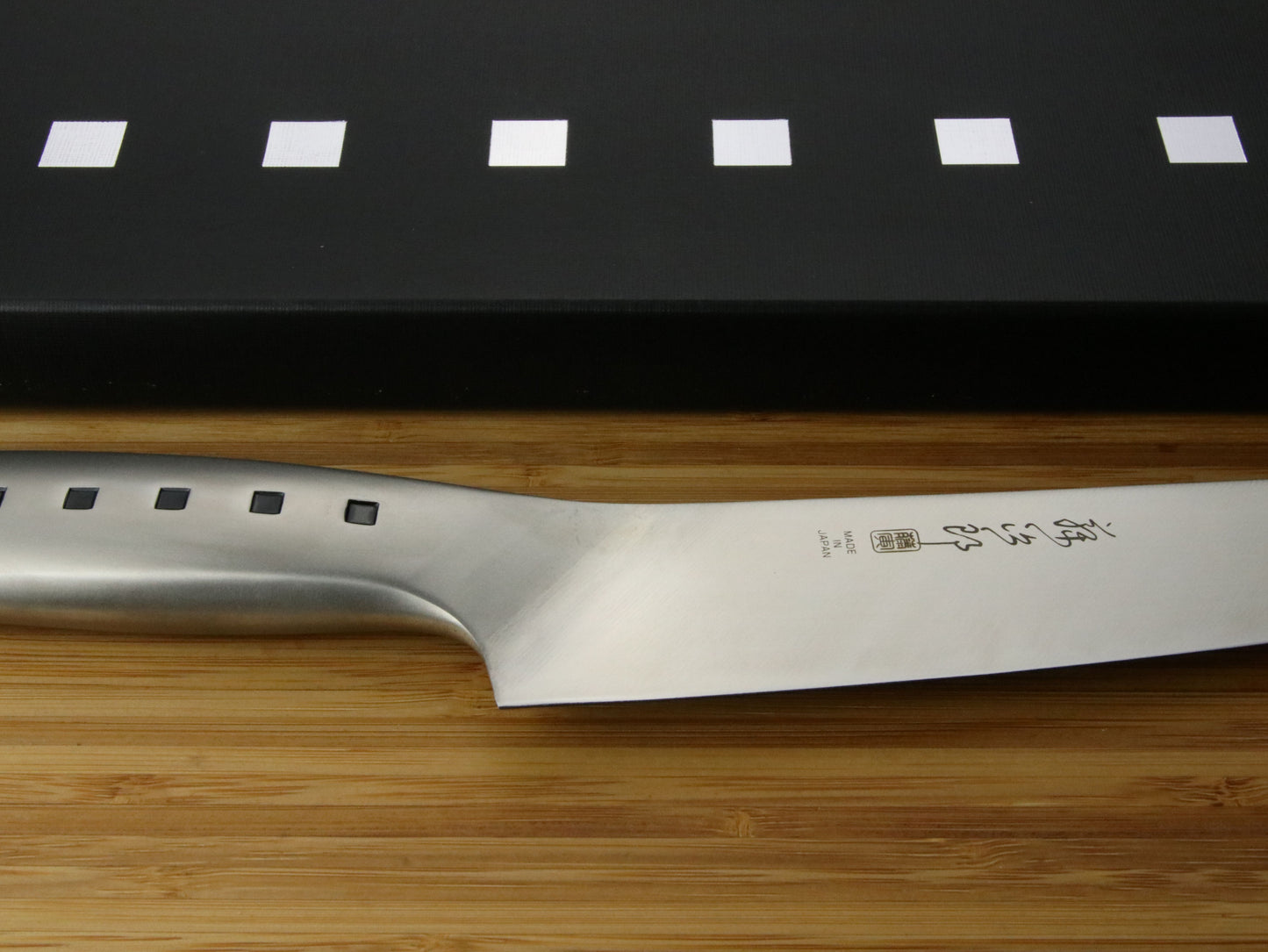 Specifications
Length: Carving: 210 mm (8.3") blade, 340 mm (13.4") overall
Nakiri: 160 mm (6.3") blade, 270 mm (10.6") overall
Utility: 140 mm (5.5") blade, 250 mm (9.8") overall
Petty: 110 mm (4.3") blade, 220 mm (8.7") overall
Cheese: 150 mm (5.9") blade, 260 mm (10.2") overall
Bread: 230 mm (9.1") blade, 365 mm (14.4") overall
Weight: Carving: 150 g (5.3 oz)
Nakiri: 115 g (4.1 oz)
Utility: 85 g (3.0 oz)
Petty: 70 g (2.5 oz)
Cheese: 80 g (2.8 oz)
Bread: 170 g (6.0 oz)
Blade: Molybdenum-vanadium stainless steel
Edge: Double bevel, serrated (bread knife, cheese knife)
Handle Material: Hollow 18/8 stainless steel
Handle Shape: Ergonomic